Welcome!
When it comes to value, quality, and personal customer service, Cedar Creek Nursery is always eager to help. Cedar Creek Nursery isn't just another retail nursery. We are growers as well.
---
Announcements
Cedar Creek Nursery is open during our regular business hours.
As the coronavirus situation continues to evolve, Cedar Creek Nursery is taking the following steps:
1. We are monitoring this situation daily, and, as we do with any unusual event, we will watch what's happening locally and adjust business operations and policies as needed.
2. We are following the CDC guidelines and are limiting the number of customers inside our facility.
3. First and foremost, we are taking preventive measures to keep our facility clean and maintain a healthy environment. High-touch, high-traffic areas are cleaned often throughout the day, which includes using sanitizing solutions.
4. We are providing hand sanitizer for customers use.
5. Thanks for the opportunity to serve you. Rest assured, we are doing everything we can to provide a safe shopping experience for our customers and a healthy environment for our associates and communities.
Sign up to receive our newsletter.


NOW OPEN: We at Cedar Creek are excited to announce our new outpost location in Helena, Al. at 4726 County Rd 52. We carry superior trees, shrubs, perennials, house plants, and bedding plants. Also pottery, chemicals, bulk products, and bag goods.
---
Click for 1 year monthly lawn maintenance schedule (PDF)
---
Coming Soon: Secured Cedar Creek ONLINE Gift Shop
Our online shop is currently being reorganized for you. Check back often for online shopping updates.
---
Come View our Giant Inventory of Plants, Flowers, Shrubs and Trees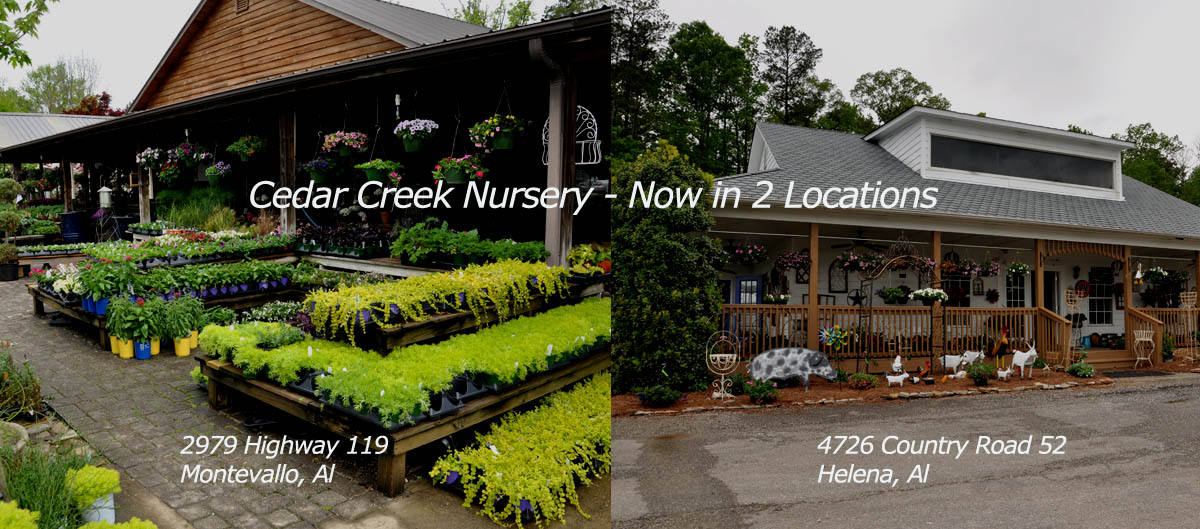 Garden Supplies
Many varieties and sizes of shrubs, flowering trees, evergreens, annuals, and perennials gives us a large selection for our customers to choose from. Garden Chemicals, Statues, Pine Straw, Mulch, and much more... Whether you know exactly what you are looking for, or just need a few ideas, Cedar Creek Nursery is here to help.
---
Cedar Creek Nursery
Designed and Hosted by Net Projections